...the biplane way
---
---
This is all your fault, you know who!
...
Way back, when working on the new layout for switches on the panel, I was thinking about how to re-label them.
I had a nice Brady label maker, and was thinking about just printing and sticking some tags over existing, painted, lettering, on the switch placards.
One of the nights, when I was tired enough to do anything useful, I was playing with the stickers, and posted this picture here: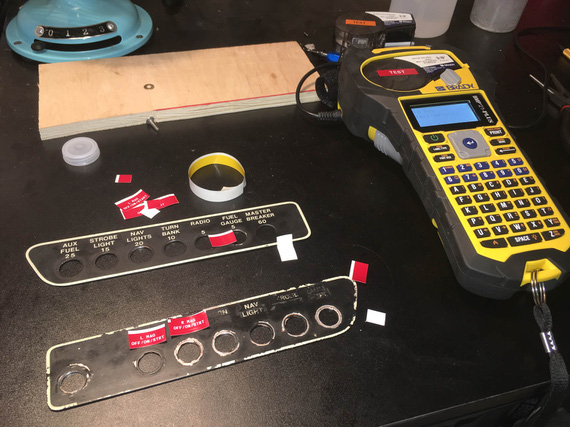 Playing with placards
The you-know-who-you-are, of course, wasn't happy (this gentleman is an actual friend of mine, not a silly voice in my head). "They will fall off", he said. "Can't you do something a bit more professional"? "Can't you draw them up, and order them to be custom made"?
Order?
Ha!
No. This whole exercise in airplane handling is to put yourself thru as much misery as possible. So the placards had to be made, not ordered. I mean, I could've ordered my electrical redone too, right? :)
I recalled that I read somewhere on Vintage Machinery that someone figured out a neat way to restore old data plates on old lathes and such. Looking it up, I remembered.
Etching!
The idea is basic - make a mask, transfer it to a piece of metal, soak it in acid, paint, sand - your recessed (etched) areas will keep paint, while the elevated (masked out) areas will sand out. This way, you get metal-on-paint look, and it's nice and pretty.
So, it has been decided - I will etch out my switch placards!
First, though, I had to figure out...
---
"Caution wake turbulence you're following a heavy 12 o'clock, three ... no, let's make it five miles."
-ORD ATC
---
Up ↑