... aka The Mean Beast
---
---
I've had a problem.
Well, two problems to be precise.
Problem number one: being an alien Texan, I had to ensure that I stay on the good side of our local BBQ police. Did you know that if you move to Texas, you get deported if you can't pull off a passable brisket on an offset stick burner? You probably didn't!
My other problem was 20 inches wide, 40 inches long, and had a 3" stack.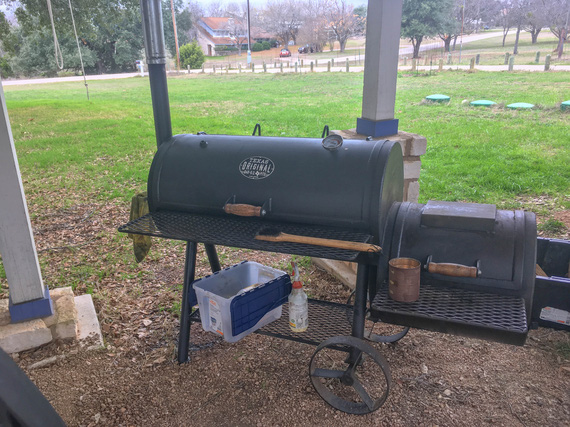 My Other Problem
It was too small, which resulted in inability to make more than one brisket...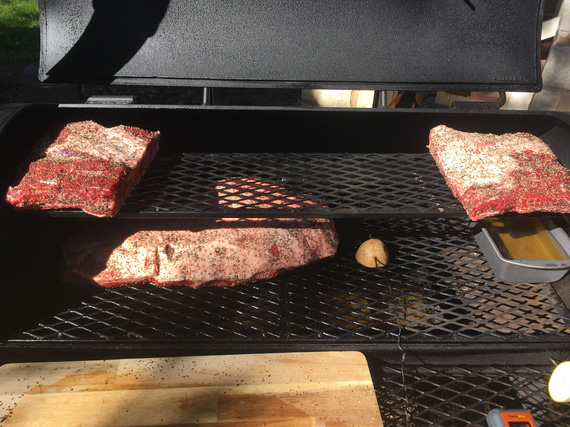 Loaded to the brim
That's one brisket and some ribs - and they all are in suboptimal spots on the pit. It's just too small!
My son's fourth birthday I had to admit defeat and get a couple cooked briskets at Brett's Backyard BBQ. Nothing wrong with Brett - his briskets are grand; but I need to cook for my son's birthday!
On top of that, that pit was all choked up, with such a small stack that it couldn't handle any real size firewood. I ended up having to fiddle with the fire every 10-15 minutes, and feed it with kindling.
So, after going thru all the smoking for New Years; I decided that I outgrew my pit, and had to upgrade.
The usual suspects - Klose, Gator, and JJ were all on the list. They're all in Houston, and I was gonna make a trip on January 2nd, and talk to each one of them. I was thinking about 24x48, and possibly talking about getting a 30x48.
I considered a Lang for a while; but decided against it - I kinda like the simplicity and basic-ness, if you will, of a straight pit.
And in parallel, I was browsing Craigslist. Hey, if someone was dumping a good sized pit, I would've taken it off their hands.
And that's how I found...
---
"I don't mind altitude separation as long as they're not on top of each other."
-ORD ATC
---
Up ↑