slowly getting there
---
---
In the past couple of evenings; have continued hanging virtual control system on the virtual wings.
Thanks to CWilliamRose from Biplane Forum, I now have quite a bit of models of AN / MILSPEC bearings.. REP3H5 included, but he didn't have REP4H6, so that had to be done first..
REP4H6 bearing model
Couldn't find a few dimensions; but my rationale is as long as the basic eye height / bore / shank are there, and the ball 'rotates', that's good enough for the purpose of my alignment checking, for now at least. Ill revisit if I start getting into tight corners.
Next, hung the Idler, bearings, cleaned up the model (funny, lower wing assembly is technically my first serious SolidWorks model, so I keep cleaning it up as I go, killing stupid things I did back when I didn't know any better).
Sigh... I will need to hang the wing onto the fuselage model to make sure the pushrod doesn't hit verticals -- clearance is there, but might not be enough.
Here's the wing model with the pushrod: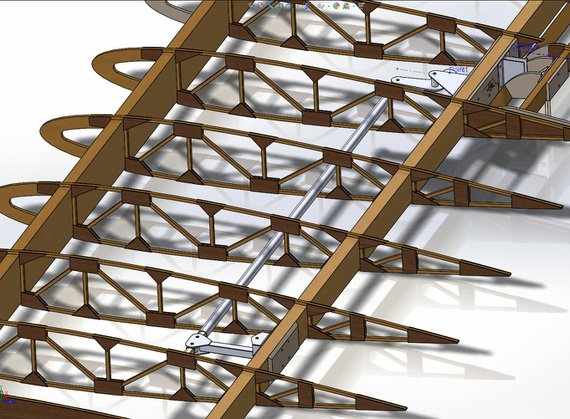 Idler, bellcrank, and pushrod -- there is clearance, but is it enough?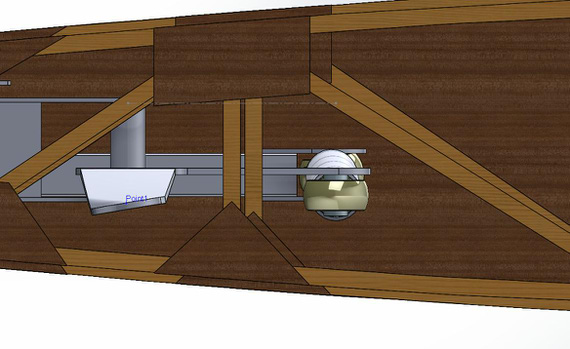 Here, it's looking at the rod from the tip, the rod is that white thingie right of the rib verticals
So, I guess, to the wing fittings and control stick assembled with fuse models tomorrow.
And to finish today off, here's the full zoomed out picture of the lower wing, as it is right now.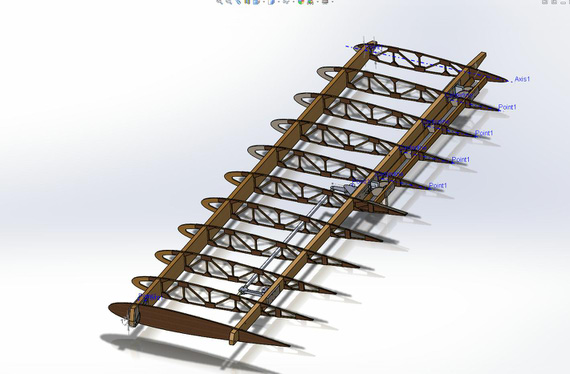 The wing
---
Sorry folks for the hard landing. It wasn't the pilot's fault, and it wasn't the plane's fault. It was the asphalt.
---
Up ↑